Your On-premise S3 Glacier
Experience the power of seamless data archiving with XtreemStore. This scalable software solution combines the simplicity of the cloud with the unbeatable total cost of ownership of LTO tape storage.
This unique approach offers businesses an effective alternative to traditional cloud storage. By integrating the scalable and familiar S3 Glacier interface with the longevity and cost-effectiveness of LTO tape storage, XtreemStore presents an innovative data management strategy for long-term data preservation.
Whether used as a standalone archiving solution or to complement a 3-2-1 backup strategy, XtreemStore provides unparalleled scalability, data security, and storage efficiency. Built for ease of use, XtreemStore integrates perfectly with any application that supports AWS S3 and the S3 Deep Glacier Command Set. Businesses benefit from the familiarity of these standard object storage interfaces while capitalizing on the robustness and cost-effectiveness of magnetic tape storage.
Designed for Modern Applications Compatible with S3 Glacier
Scalable performance from terabytes to exabytes with tunable performance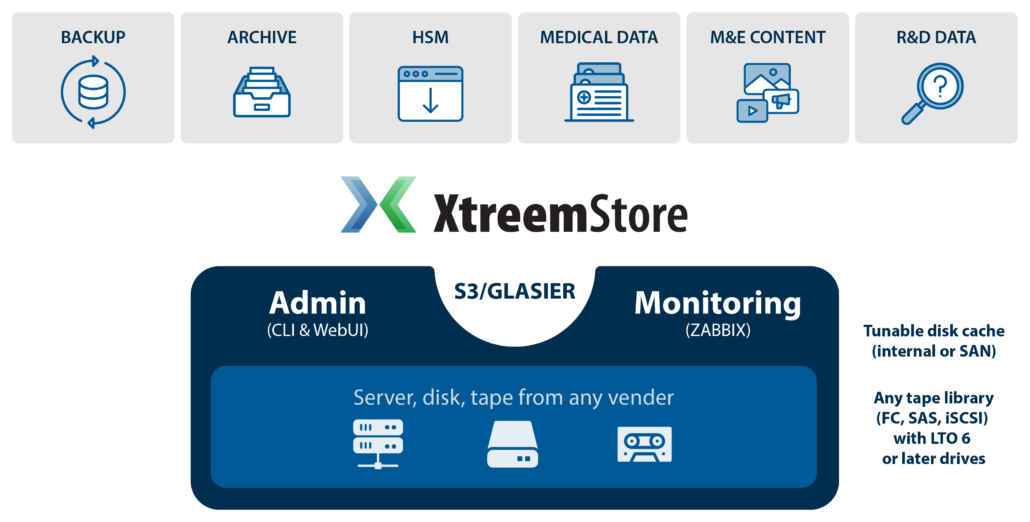 The XtreemStore software offers many advantages compared to other solutions:
Designed with S3 Glacier compatibility for seamless integration with IT infrastructure and applications.
Eliminates the complexities typically associated with tape storage.
Benefit from the cost-effectiveness of tape storage to maximize your TCO.
Scalable design to meet the ever-changing data storage. Easyaddition or removal of servers, disk, and tape libraries to match your evolvingrequirements.
Air gap protection provides extra security against ransomware.
WebUI and CLI ensure a smooth user experience, even for those new to tape storage management.
LTFS and TAR ensure your data remains accessible and future-proofing your data storage.
Exceptional scalability supports billions of objects and data volumes from terabytes to hundreds of petabytes, providing a reliable solution for your expanding storage demands.
Policy-based disk cache, utilizing internal disk or SAN,enables tunable read/write performance to optimize tape performance and caterprecisely to the demands of various workflow requirements.
Write up to four tape copies per library.
Manage one or more tape libraries.
Asynchronous replication to second XtreemStore.
Categorizing and data segmentation based on users or business units.
An advanced metadata-driven feature enables users to streamline storage efficiently by creating dynamic groups and buckets, ensuring quicker dataaccess and simplified management.
REST API allows third-party integration for advanced metadata access.
Talk to our experts and get individual advice!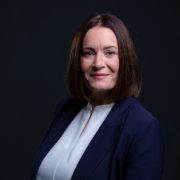 Nina Mangold
Channel Manager
GRAU DATA
Which standards does the XtreemStore software support?
XtreemStore writes TAR containers in LTFS format to magnetic tapes. This enables customers to read out the data in the long term even without the XtreemStore software.
What hardware does the XtreemStore software support?
The XtreemStore software supports all common server, disk and tape libraries.  Currently, LTO drives and LTO tapes from LTO 6 to LTO 9 are supported.
Long-term hardware independence is an essential product criterion.
Which interfaces does the XtreemStore software support?
The XtreemStore software supports the S3 interface according to the AWS specification.
The S3 AWS Glacier Command Set is also supported. This means that all applications that support this command set can use the XtreemStore software as an alternative.
Optionally or additionally, there is also a Windows- and Linux-based file system interface (XtreemStore Client).
How scalable is the XtreemStore software?
The very highly scalable embedded NoSQL database has no known limitations on objects. In order to increase the data throughput, several parallel servers can be installed, which means that in addition to vertical scalability, horizontal scalability is also possible.
In practical tests, 1.5 billion files were written to a bucket without any impairment of performance being measured. If necessary, the number of buckets can be expanded almost at will.
With the XtreemStore software, customers are prepared for the "exabyte age".