Fully integrated ransomware protection for Veeam® backups
These customers trust our solutions
With Blocky for Veeam®, you choose reliable protection of your Veeam® backups against ransomware – secure, fully integrated and without tedious administration effort.
Proven technology in use against Ransomware
Ransomware protection is built on GRAU DATA's proven WORM (Write Once Read Many) technology and is specially tailored for integration into Veeam backup solutions. With just a few clicks you are protected and cyber criminals have no chance to manipulate your backup data.
Sales partner for Blocky for Veeam® is our technology partner Cristie Data GmbH. The Cristie.Partners – Team is the contact person for end customers and resellers.
Contact:
team@cristie.partners
Phone +49 6028 9795 555
Talk to our experts and get individual advice!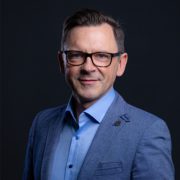 Remigiusz Jahr
Channel Manager
GRAU DATA